Chocolate NOW!

Chocolate NOW! is a very special and leading online supplier of Luxury Chocolate Gifts. What is particularly special is that you can create your own personal chocolate selection from over 40 of the finest Belgian chocolates. Then they will gift wrap your chocolates by hand in a style picked by you from a range of over 30 exclusive luxury gift wrap options. Their "complete gift service" includes a matching gift tag with your personal message and next day UK delivery. They also deliver to most of Western Europe but not necessarily next day. They even offer instant chocolate gifts over the internet with their unique "e-choc" gifts!
Because their chocolates looked so mouthwateringly delicious I couldn't resist making the animated gif below to drool over all the chocolates they currently sell. If you watch it long enough you might turn into a chocolate truffle or even a soft centred "Princess".
Nigel & Joe Croft formed Chocolate NOW! in 2005 because they loved chocolate and they take chocolate very seriously as well as the environment. They personally taste and select only the best Belgian chocolates and say they will not sell chocolates unless they have personally tasted it and love it. They are so concerned for the environment that they have taken the trouble to ensure that their web server is powered by renewable energy and they ensure that over 95% of their waste is recycled. Wherever possible they make sure their packaging is recyclable and they say that if there is any that you can't recycle then send it back to them and they will endeavour to reuse it or dispose of it responsibly.
This site should be given a danger warning because if you visit it you may find it hard to leave without buying too much chocolate. If you dare you can visit their web site by clicking this link --> Chocolate NOW! or one of the images.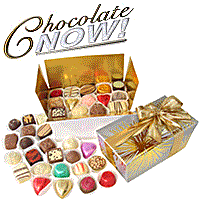 Delivery in the UK and Western Europe.
---